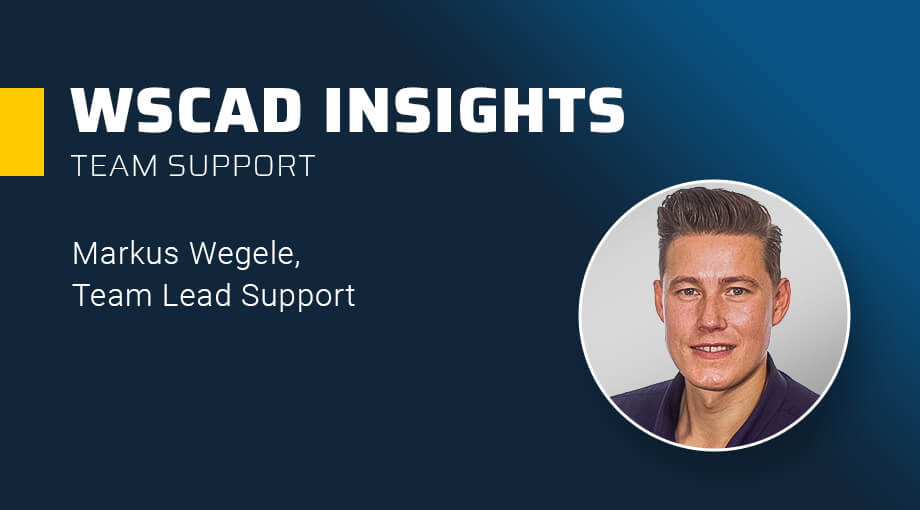 The support team at WSCAD: Experts in customer service and interface between customers and departments
The Support department at WSCAD is responsible for providing customers with help and advice on questions and problems regarding WSCAD software. The team lead Markus Wegele and his support team is the interface between customers and other departments of the company and attaches great importance to a good team spirit and a strong sense of togetherness. Customer feedback and suggestions are taken seriously and flow into the further development of the WSCAD software.
How long have you been working at WSCAD and what are your responsibilities there?
I was very fortunate to join WSCAD in May 2019 after my apprenticeship and several years of practical experience in the fields of Electrics and Electronics. I started in Customer Support and was able to quickly find my way into the company, the team, and the job, thanks to the warm welcome and support of my colleagues.
After I took over as team leader in Support in November 2021, the consulting and support part of my job has decreased a bit.
Nevertheless, I am grateful every day to continue to be available to our customers and to be able to resolve one or more support cases, in addition to all of the organizational responsibilities.
What is the Support department responsible for at WSCAD? What are the requirements for the team?
Support at WSCAD has several tasks. First and foremost, we help and advice our customers and support them with problem solutions, software tips, and "how to" information so that our users can fully concentrate on their planning tasks.
Furthermore, we also serve as a liaison between our customers and other departments within our organization such as Quality Assurance, Product Management and Sales.
As a result, it is important for us to maintain both objectivity and empathy towards our customers. Logical thinking and a dash of detective flair are always helpful in solving one or more cases.
How is the Support team structured at WSCAD? What makes the team special?
There are currently ten of us in the Support team. Each colleague has his or her own special areas and knowledge in addition to the basic functions of our WSCAD software. This way, we can best complement and support each other as a team.
Speaking of the team: The team concept is very important to us. Despite our partial spatial separation via home offices, we have a strong cohesion and, as a result, a great team.
What are the processes in the Support department?
The customer initiates the first contact. A case is first created for the customer's inquiry, whether by phone, e-mail, or ticket from the software.
Of course, we try to find a direct solution and help the customer. If this is not possible, the case is passed on to the department's internal specialist on this subject.
If the issue cannot be resolved by us, we use our connection to the specialist departments to obtain more detailed information, which we then forward to the customer.
Where do you get your input from?
Our "input" is primarily provided by our customers. Whether it's a minor or major issue, or a suggestion for improvement, there's always something new to learn at WSCAD.
How will the Support team develop in the future at WSCAD?
Of course, we continuously strive to adapt to our customers' needs, not just in terms of the technical aspects of our software. Practical references to our customers' activities are also important to us, which is why we try to stay on top of things here as well.
Is it possible to get involved in Support at WSCAD as a customer?
Every report from a customer is a rewarding experience for us and may lead to future improvements to our WSCAD software. Whether it's a suggestion for improvement, a recurring issue, or a single case. It helps us grow as a Support team.
Dear Markus, thank you very much for the interview and for the insights into the Support department!
With pleasure.