Design layouts and control schematics using WSCAD Building Automation software. Function lists can be structured according to the guidelines VDI 3814 und VDI 3813 for the entire building automation. The symbols placed in the schematics are stored including the complete product data from the manufacturer. Over 2.1 million parts and symbols can be found at wscaduniverse.com. Generating materials and parts lists (BOM) is a super easy. It is also the basis for the procurement of materials and price determination. WSCAD Building Automation provides constant transparency and traceability throughout the project: you can use certain colors for the plant layout and functional diagrams. Or you can quickly analyse all functions, materials, field devices and cables. All material data is integrated in the complete electrical-CAD environment across all engineering disciplines (schematics design, cabinet engineering, electrical installation and distribution plan) significantly reducing manual, error-prone activities.
Using huge symbol and macro libraries in combination with the materials and data point browsers from WSCAD Building Automation enables rapid processing and significantly simplifies the workflow. The integrated data point and signal management allows for easy management of all objects, signals and functions. Plug-ins enable automatic plant and address labeling – starting with an identification of the building, through structure identification, down to signal labelling. In WSCAD you can import CAD/PDF drawings from technical domains such as heating, ventilation, refrigeration and electrical engineering. These imports can be used as a basis for detailed design saving you a significant amount of time.
Try the demo version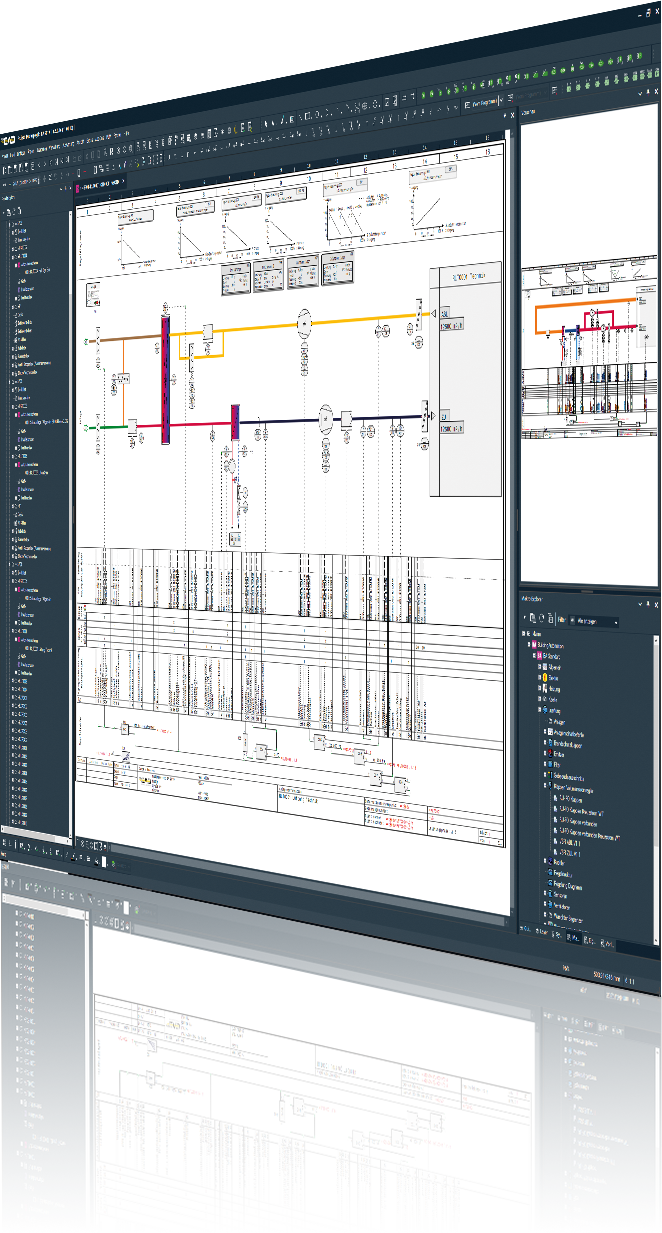 Quickly create schemesusing macros, collect data points and use them consistently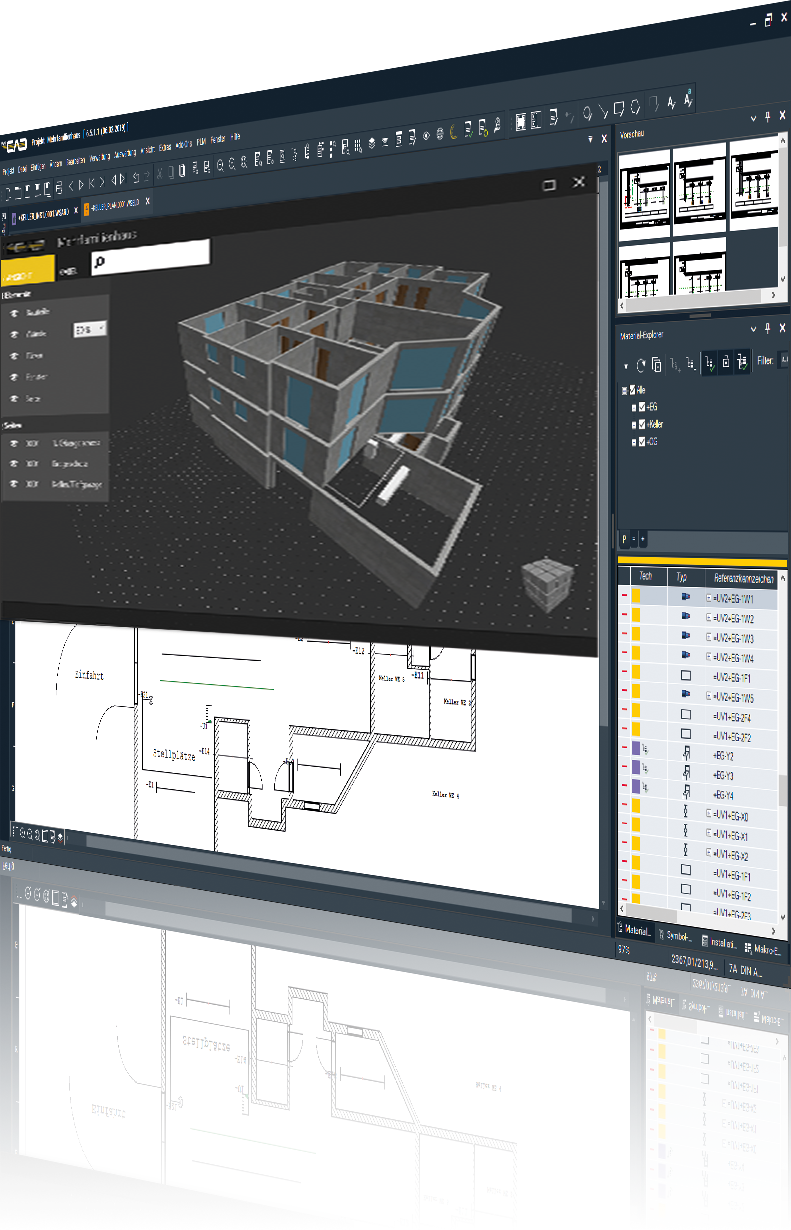 Read floor plans, place field devices and equip intelligence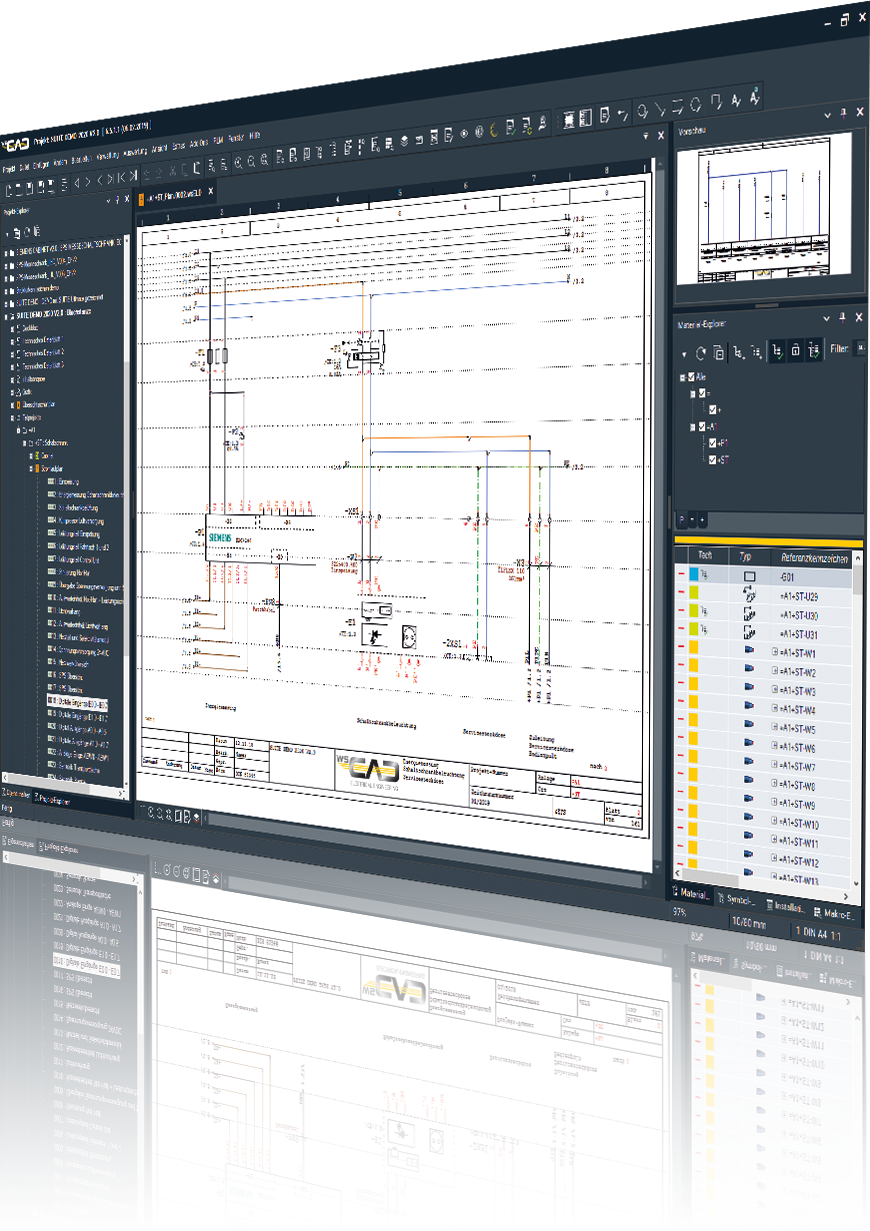 Use all components that have already been created to develop schematic diagrams, generate terminal diagrams, connection and material lists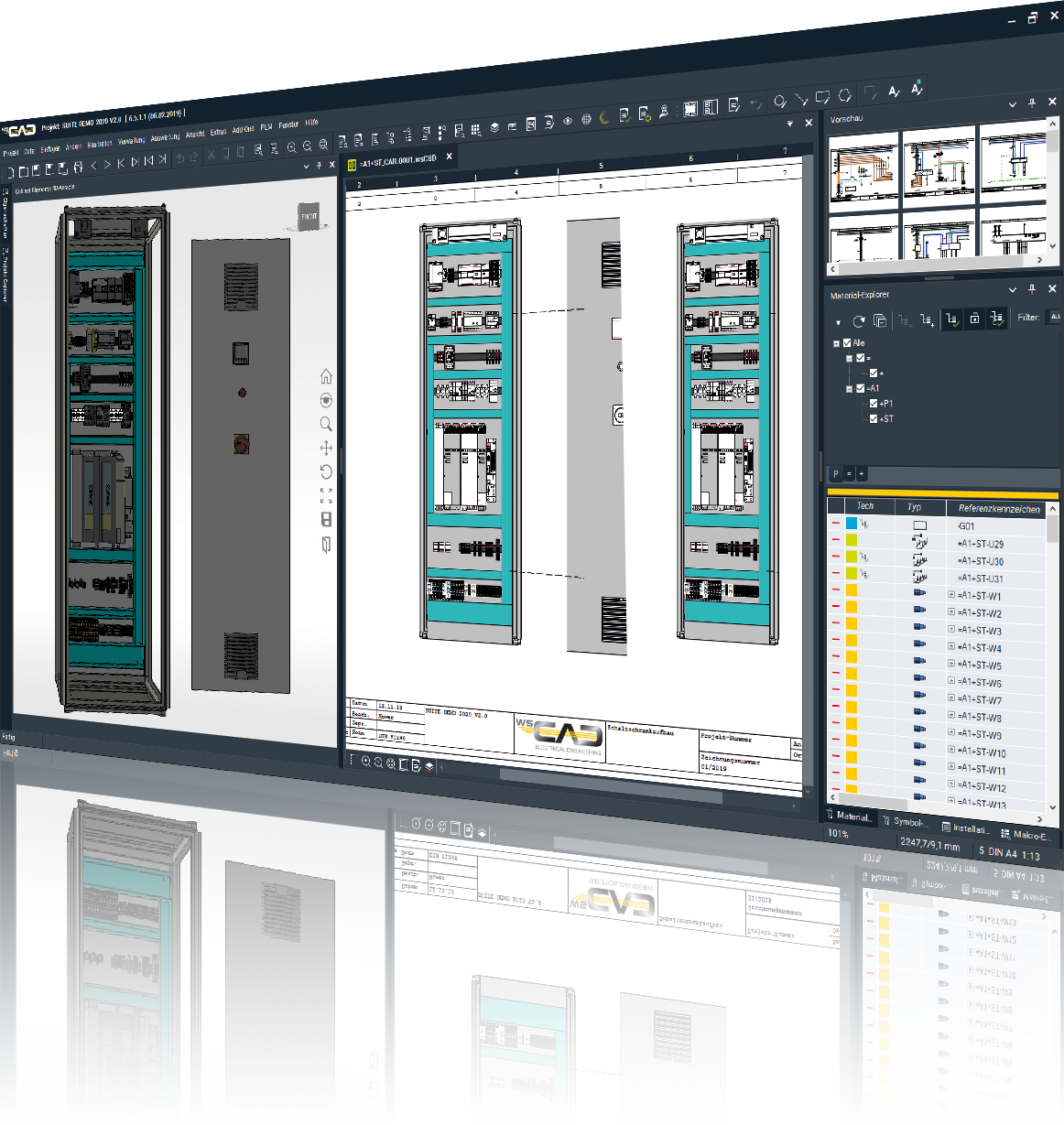 Quickly route cabinet structures using macros and connections, calculate wire lengths, instantly use generated data on NC machines to manufacture wires and cabinet doors without needing any additional licenses or costs
WSCAD Building Automation helps you master your challenges:
Planning and documentation as per the guidelines VDI 3814 and VDI 3813 as well as the DIN EN ISO 16484 standard
Design, execution, installation, plant and inventory planning
Format-independent automation schemes
Creation of function lists as per VDI 3814 and 3813
Automation and field device documentation
Output and export of lists for valves, cables, field devices and materials
Representation of data structures in functional diagrams
Representation of system and network overviews
Symbols as per DIN 19227 and DIN EN 81346/61346
Symbols for building automation and room automation as per VDI Guidelines 3814 and 3813
Symbols for electrical installation, control cabinet and distribution board construction
Automated plant identification key
View of detailed data structures
System macros
Integration of graphics, symbols and external documents via links
Import of floor plans and drawings (DWG/DXF, PDF, graphics)
Export of valves, cables, field devices and material data to Excel and other programs
Quantity takeoff
The WSCAD Building Automation module at a glance
Function
Benefit
WSCAD BA
Other MEP-Software
Other
E-CAD-Software
Interdisciplinary work: BA-Schemes -> installation drawing-> circuit diagrams -> cabinet design

Time saving
Consistency in engineering data
Improved quality
No loss of information

Free customizable datapoint addressing concep

Flexibly adjustable
Changes and updates during project duration possible

Working with macros

Freely configurable
Easy to define own macros
Variants and assignment of properties
User-friendly interface
Time saving

Automatic generation of circuit diagrams and automation schemes

Construct efficiently with macros and win up to 75% time

Own part database (local and online)

Efficient work by standardizing and reusing the data

Free plant structuring acc. to IEC 8134

Clear structuring of the project
Integration of the structure into the addressing concept

Symbols acc. to IEC 62424 and VDI 3813 and 3814

Free and flexible construction with symbol libraries

Generation of function lists acc. to IEC 16484

BACnet compliant presentation

Reflection of the data points in information links

Clear assignment of the data points in the automation scheme

Standardization of the data points for each device

Increases the flexibility and enables fast defining of own datapoint addressing concepts

Auto connection of devices with connection line
Intelligent copy-and-pasteCTRL-C/CTRL-V

Time saving
Avoiding mistakes

Export of smart PDF

Linked cross-references within the document

Sheet size freely definabl

All standard paper sizes and free sheet sizes
Predefined layout

Import of DWG/DXF

Easy transfer of planning data

Import of PDF

Easy transfer of planning data
Information Brochure
Building Automation with the WSCAD Software
WSCAD has been developing electrical CAD solutions for over 28 years. Customers include medium-sized companies, international corporations and engineering service providers.
More than 35,000 users rely on WSCAD Software as their electrical CAD solution. The software is based on one core platform that covers six engineering disciplines: electrical engineering, cabinet engineering, piping and instrumentation, fl uid engineering, building automation and electrical installation. Any change made to a component in one discipline immediately reflects in all the other disciplines.
This information brochure gives you an overview of the functions and advantages of the Building Automation discipline. The download is free of charge.
Case study
Fraport is designing building and room automation with WSCAD
"In order to avoid data discontinuity, errors and delays, we have followed a holistic design for building and room automation from the beginning."
Find out how the building automation for 1,500 rooms, 240 controls and 150,000 automation functions at the new Terminal 3 at Frankfurt Airport was planned using the electrical CAD solution from WSCAD.
Case study
EMSR-company and cabinet engineering manufacturer VOGL Elektromeisterbetrieb GmbH, Teisnach, Germany
Would you like to find out from practical experience how our software can be used to quickly and precisely plan the entire planning process from building and room automation, electrical installation to control cabinet and electrical planning? The master electrician company Vogl from Teisnach will tell you in our current user report!
(German only)
White Paper
Building Information Modeling (BIM) in Electrical Engineering
Building Information Modeling (BIM) promises to make engineering in the building sector much more economical over the entire life cycle of objects. From planning to execution, commissioning and operation, right through to reconstruction or dismantling. Planning processes are optimized, and gaps in the planning are more easily recognized. All project managers benefit from BIM through a massive reduction of disruptions in the construction process.
White Paper
Sustainable planning of power distribution boards for infrastructure projects with CAE systems
In collaboration with our partner Siemens, we address the new challenges facing electrical engineering and explain how workflows can be optimized through the use of CAE-Systems and what benefits can be gained by digitalizing the way we work.