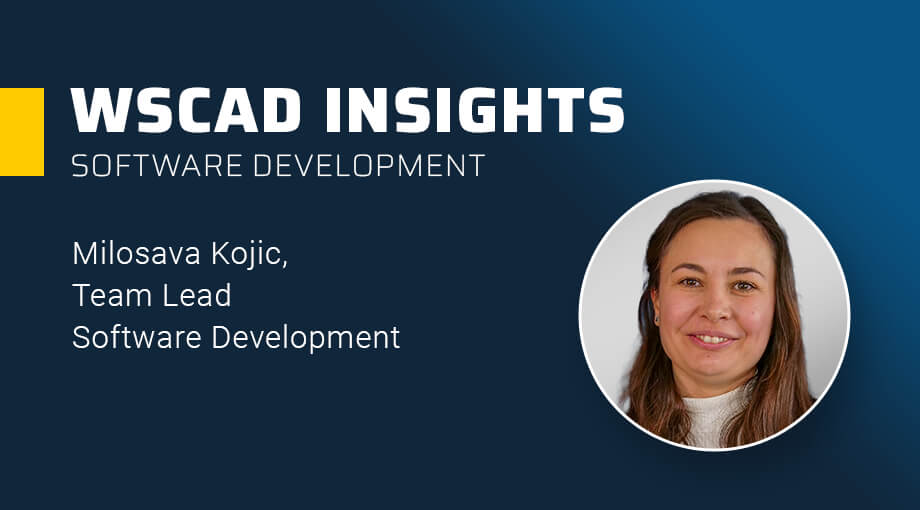 No delivery without the Software Development Team
Without the Software Development department, there would be no WSCAD electrical CAD system. Team Lead Milosava Koijc gives an insight into the central and also most international team at WSCAD.
How long have you been at WSCAD and what are your tasks there?
I moved to Germany from Serbia in 2016 and have been working at WSCAD since then. WSCAD gave me a chance as a developer from another country, supported me in integrating, evolving, and earning my loyalty and trust over the years to stay for almost 7 years. I was promoted to lead the software development team after three years as a developer. I'm currently in charge of nine people, and I was fortunate enough to be involved in their hiring. Aside from that, I'm in charge of the processes and projects that are currently underway in our department.
What is the Software Development department responsible for at WSCAD? What are the requirements for the team?
As the name implies, we are responsible for software development and maintenance of our applications. We are responsible for delivering software that will make our customers' lives easier and their work faster and better.
How is the Software Development team structured at WSCAD? What makes the team special?
We currently have two teams, one working from our headquarters in Germany and the other from Poland. We have people from six different countries from around the world. It is important for us that whoever joins the team respects the differences and works as a team player. Because English is the official language in our department, all meetings and documentation are written in English. We were already working online before Covid, due to the fact that we had a team in Poland. We now have a hybrid model that includes at least two days in the office, and it is working well for us. Developers in Germany can choose whether to work from our headquarters in Bergkirchen or from our smaller offices in Munich.
The most unique aspect of our team is that I can call every team member a friend. Aside from that, we are a fantastic team, with everyone contributing to the development of our product and being held accountable for their work. Team members are working together to communicate and carry out shared responsibilities.
What are the processes in software development?
Our approach is agile, with incremental and iterative steps to complete the project. Continuous feedback is provided in agile processes, allowing team members to adapt to new challenges as they arise. We are complying to the SCRUM methodology's fundamental rules.
What is the procedure for further developing the software? Where does development get its input from? What happens in case of bugs?
We collaborate closely with the Requirements Team, Quality Assurance, Product Owner, and Product Manager. They are our point of contact with stakeholders and customers. According to Scrum, the Product Owner is responsible for the backlog, which is a list of tasks (features and bugs). The Product Owner prioritises the tasks, which developers receive as a prioritised list. A software bug, for those who are unfamiliar with the term, is a flaw, failure, error, or fault in computer software that causes it to return unexpected or incorrect results. Customers report bugs to support, who forwards them to our QA department, which determines whether it is an actual bug or if we are already working on it and creates a bug task for developers. The Product Owner then takes over.
How will the software development team develop in the future at WSCAD?
We have big plans and big ideas, and we're always looking for motivated developers who can bring new energy and ideas to the team.
Can you as a customer be involved in the software development at WSCAD?
Every customer can be a stakeholder and contribute ideas for future growth.
Dear Milosava, thank you so much for the interview and for the inside look at the software development department!
Happy to do it!