WSCAD Education
Nonprofit education of students
WSCAD offers a special version of our Software for the nonprofit education of students with few restrictions for free.
The functionality of the school version WSCAD SUITE Education is equal to the WSCAD SUITE Ultimate with the add-ons: ProjectWizard, User Rights and P&ID with the following restrictions: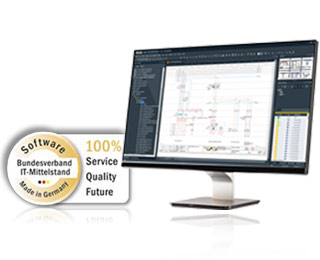 Software delivery is only possible via internet.
During installation, an internet connection is required.
WSCAD SUITE Education supports its own file format.
Plans created with the WSCAD SUITE Education cannot be read by the license version.
The WSCAD SUITE Education can edit drawings of a license version but they will then be unusable for the license version.
The WSCAD SUITE Education has a limited runtime of 24 months maximum.
The use of WSCAD SUITE Education in a virtual environment (virtual machine) is not possible.
The file export to DXF/DWG is not possible.
The transfer of data to manufacturing interfaces such as Steinhauer, Kiesling and CadCabel is not possible.
The output of lists/reports to Excel, Access or ASCII is not possible.
With the export function the word "Education" appears on PDF and prints.
Students and teaching facilities can download the WSCAD SUITE Education here:
One time verification required
24 months usage period
unlimited renewals
24 month usage period
two renewals possible within two weeks of the license expiration
WSCAD offers special conditions for Schools, Universities and trainig companies.
If you are intrerested in a collaboration, please contact us!
Send an email to sales@wscad.com or call us under +49 8131/3627-98
In building automation/building climate, we cooperate with the College in Biberach and the Technical University of Central Hesse in Friedberg.