Get to know WSCAD software
Webinars on demand
Webinars on demand at any time
Discover WSCAD with our free webinars whenever and wherever you want!
In our media library you will find targeted solutions for building automation, electrical installation and much more. Learn how to efficiently implement electrical engineering with WSCAD ELECTRIX and substantially accelerate processes. Registration is required to view the webinars. Afterwards you will receive the link to the video by e-mail.
Also, don't miss our events with our partners on specific topics of the electrical CAD industry. Upcoming events can be found at wscad.com/events.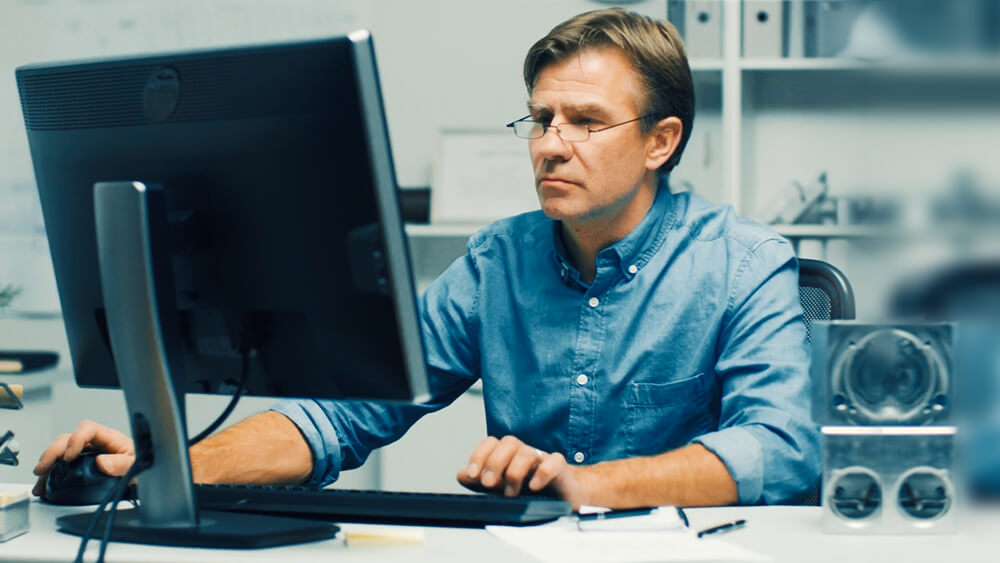 Automate your design process
Optimize and automate your design process with WSCAD software and Yellax Typical Manager
The creation of electrical schematics can be further automated by using Typical Manager in combination with WSCAD. Typical Manager is used to import large or small lists, to configure machines and/or to manage project data. Hardware configurations can also be created in Typical Manager to organize the existing project I/O automatically or manually.
By generating instead of drawing, copying errors are avoided and uniformity is created, throughout the design process.
Once the project has been compiled in Typical Manager, a WSCAD Project Wizard XML file can be created. This file can then be imported into WSCAD, after the adjustments are automatically made and the data filled in. Pressing the "Generate" button results in the desired uniform electrical circuit diagrams. With the latest, smart Typical Manager functionalities, a very high level of detail can be achieved.
Watch now for free
Discover WSCAD ELECTRIX webinars
Machinery and plant engineering
Engineering electrical systems for machinery and plants is super-easy with WSCAD ELECTRIX, regardless if you are designing tooling machines, manufacturing plants, agricultural machines, rail vehicles, environmental technology or power plants.
The complete electrical design is integrated across several engineering disciplines: piping & instrumentation, electrical schematics, fluid power, cabinet design, electrical installation and building automation. Having consistent data across these engineering domains simply prevents errors. To finish your projects faster, simply access over 2.1 mil. parts from 400 manufacturers in wscaduniverse.com. Structuring your projects according to norms (i.e. IEC 81346) keeps you safeguarded in case of liability. WSCAD ELECTRIX is able to do that and much more – find out in our webinar.
Watch now for free
Designing building automation and control systems (BACS) is a complex task, that can be easily managed with WSCAD ELECTRIX. Plant layouts and control schemes are created using WSCAD Building Automation software. Schematics and function lists can be structured according to the guidelines ISO 16484 for the entire building automation. The symbols placed in the schematics are stored including the complete product data from the manufacturer. Over 2.1 million parts and symbols can be found at wscaduniverse.com. Generating materials and parts lists (BOM) is super easy. It is also the basis for the procurement of materials and price determination.
In this webinar, we will show you the advantages of the interdisciplinary way of working with WSCAD ELECTRIX in building automation: integrate existing DWG / DXF plans, create system diagrams, set up user addressing systems and automatically generate function lists for system and room automation. You will also learn how the assignment of the data points to the channels of direct digital control (DDC) and the structure of the main automation points can be planned.
Watch now for free
Designers and engineers involved in building system technology can rely on WSCAD Electrical Installation to design high and low voltage installations, as well as antenna and fire alarm systems. WSCAD Electrical Installation is easy to handle and is fully integrated with other disciplines such as electrical engineering or cabinet engineering. You can design power distribution in buildings and all other electrical equipment. Existing floor plans in PDF or DWG format are imported to scale. Also mechanical drawings can be imported to plan the electrical devices of a machine to calculate the length of sensor and motor supply cables.
Get to know all advantages of WSCAD ELECTRIX and find out how you can plan building installations comprehensively and quickly. The extensive functionality of the circuit generator supports you in the automated creation of circuit diagrams. Our module for installation planning is intuitive and user-friendly. By using practical examples, this electrical installation webinar clearly shows the creation of installation plans and the optimal use of the interdisciplinary work method.
Watch now for free
Building automation in practice
Presenting customer projects in the automotive and manufacturing industries
Michael Dietrich, CEO of GA Pro Engineering Dietrich & Oertel GBR, will demonstrate how to use WSCAD software to perform complex projects in building and room automation. Following the technical presentation, we will demonstrate a variety of tips and techniques for using our new WSCAD ELECTRIX software in the field of building automation, as well as ways to improve the efficiency of your planning.
Watch now for free
wscaduniverse.com – Efficient engineering for your electrical CAD tool
The world's largest database wscaduniverse.com with over 1.4 million parts expands the offer – all data sets in wscaduniverse.com are now also available in DWG and EDZ format.
Watch now for free
wscaduniverse.com – More electrical components and enhanced functionality
With more than 2.1 million parts, wscaduniverse.com is the world's largest article database for electrical CAD. WSCAD regularly conducts surveys for continuous improvement. In our thirty-minute webinar, we'll show you which developments and new features we therefore have created for you. Additionally, we have also been thinking about how we can make wscaduniverse.com even more effective for you! Improved search, optimized search results and importing bulk data are just some of the new features.
Watch now for free
Register now for free!
After registration you will receive an email with the link to the video. After registration you have three days (72h) to watch the webinar you have chosen.