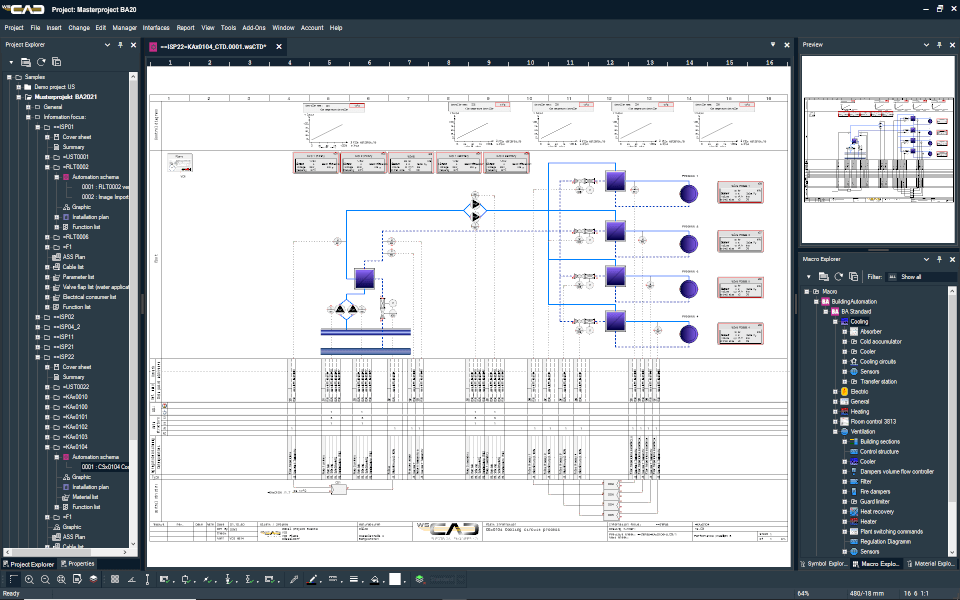 The advent of building automation in modern offices has meant construction projects require detailed system design and documentation before works can begin. Designing building automation systems is challenging, however, innovative software platforms are streamlining the process. GA Pro Engineering Dietrich & Oertel GBR utilises WSCAD's Electrical CAD Software with the Building Automation module to provide efficient, detailed design and tendering for developers, engineering firms and contractors.
Michael Dietrich, Managing Director and Building Automation Planner at GA Pro Engineering, explains how WSCAD's software solution assists in their projects.
Automation at the office
With over 25 years of experience, GA Pro Engineering specialises in designing building and room automation, security, media, data technology, programming and electrical installation. Based in Munich, Germany, the company provides these
services for the construction of large office buildings, with past customers including international IT companies and leading automotive original equipment manufacturers (OEMs) such as Porsche, BMW and Audi.
GA Pro Engineering not only uses WSCAD's building automation solution as a configuration tool for creating schematics, but also to provide clearly specified tender documents for awarding projects to subcontractors. Backed by 30 years of experience in electrical CAD solutions and continual updates, there is nothing that compares to WSCAD's software for building automation planners.
Project planning for building automation
WSCAD software usually starts with the design and graphical representation of plant layouts and control diagrams, which GA Pro Engineering receives as P&IDs from technical building equipment (TBE) design bureaus. These will offer guidance on design for sanitary equipment, heating, ventilation, air conditioning, water, energy demand, building automation, security and data technology. From that point onwards, it's up to GA Pro Engineering to carry out the detailed hardware and software design required for building and room automation.
A critical aspect of this is incorporating automation stations and systems, field devices, such as fire protection and smoke extraction systems, valves, actuators, sensors and meters that may be required. If the automation scheme for a ventilation system has been designed, then all associated objects or data points are defined, recorded and assigned properties in the WSCAD software. The recording of all objects and the data points means that they can be easily replicated and re-used. The data points are then available without System discontinuity through our disciplines up to our electrical schematics, which reach the connection points of the PLC controllers and their programming. The innate scalability of the software also allows for projects of increased complexity to be accommodated.
Flexibly meeting multiple standards
Regulatory compliance symbols are also included in the automation scheme with reference to specific manufacturer's products and associated part data – a feature that is highly advantageous when specifying order requirements in tender documents. All this is taken directly from supplied information or from the free online components database offered by WSCAD, wscaduniverse.com. Detail is matched with intuitive functionality. Parts can be swapped out quickly, for example, changing the manufacturer for 120 sensors takes just a few clicks.
The structured identification of schematics to regulatory standards by WSCAD enables the reuse of designs across buildings. A ventilation system from one office schematic can be dragged and dropped to another while automatically transferring identifiers and information. As a result, any time-consuming or error-prone manual renaming is eliminated. Projects can also be structured and identified in accordance with multiple standards. A recent GA Pro Engineering project involved using AMEV and ISO IEC EN 81346 simultaneously, incorporating two identification systems in one planning process – a unique advantage of WSCAD ELECTRIX compared to other solutions.
Advantages beyond design and tendering
As well as supporting the building automation designer, WSCAD assists other contractors involved in a project too. The automation schematics with data points and functional descriptions translate directly into a bill of materials for documentation, streamlining the tendering process. Numerous interfaces in the software enable the easy import or export of data from WSCAD, if they happen to use a different platform, allowing them to seamlessly transfer data. When complete, schematics can be imported directly into the electrical installation plan, including all specifications, locations and mounting positions.
Due to its flexibility and wide range of options, WSCAD provides more creative freedom for GA Pro Engineering's projects. Features such as recording, product information, automation of recurring processes, structured identifications and easy data transfer not only benefit designers, but also cabinet engineers and electricians at the construction site or facility managers at the building. This ensures that data for building automation systems can be used continuously throughout the design and life cycle of an office. Rather than just expediting design and tendering, WSCAD's ELECTRIX provides additional benefits across the entire construction process.
PDF of complete press release