Professional Cabinet Engineering
… maximum value at a fair price
Highly specialized control panel manufacturers need to be equally proficient in both the technology and the skills of the trade. In addition to the appropriate machines for production, it is crucial that they also have the right CAD tools.
Cabinet Engineering is one of six disciplines from the WSCAD Software, the electrical engineering solution from WSCAD. The underlying schematics for the cabinet are either created with the Electrical Engineering discipline or imported from other E-CAD systems using a wizard. Even a cabinet layout with no schematic is possible.
Cabinet Engineering has a wide range of functions:
Macros accelerate the creation of a cabinet, connections can be routed at the push of a button, and wire lengths can be calculated. The filling degree of cable ducts is displayed in 3D, and the generated data can be used for the production of wires, wire sets, cabinet doors or mounting plates via interfaces. Everything is on board. The conditions for procurement and annually recurring maintenance are surprisingly favorable. And access to over 2.1 million current symbols and part data from 400 manufacturers is free and an integral part of the software.
Create the control cabinet plan with a few mouse clicks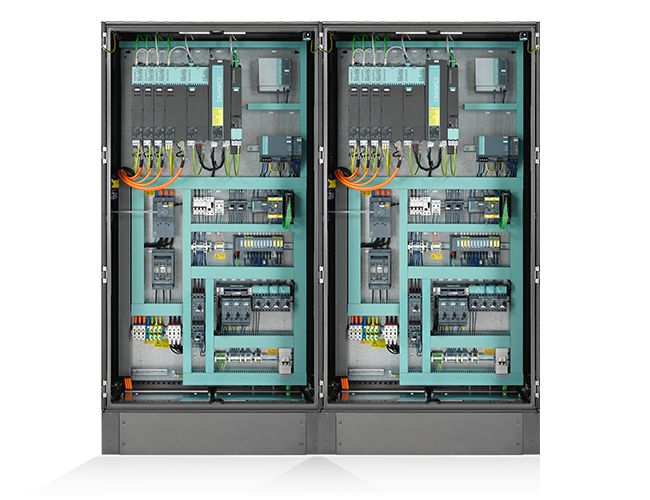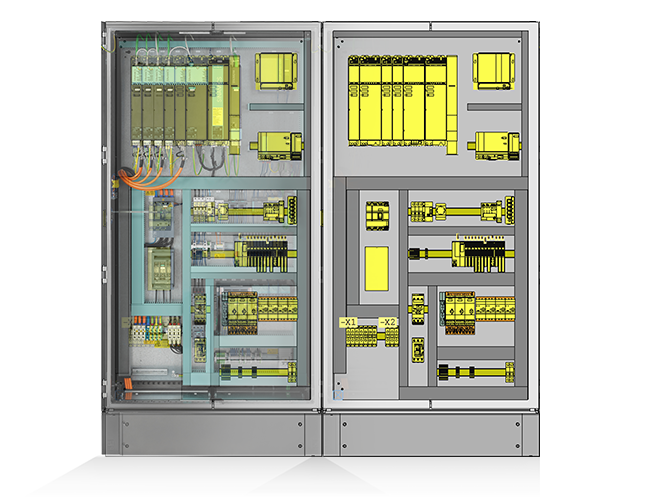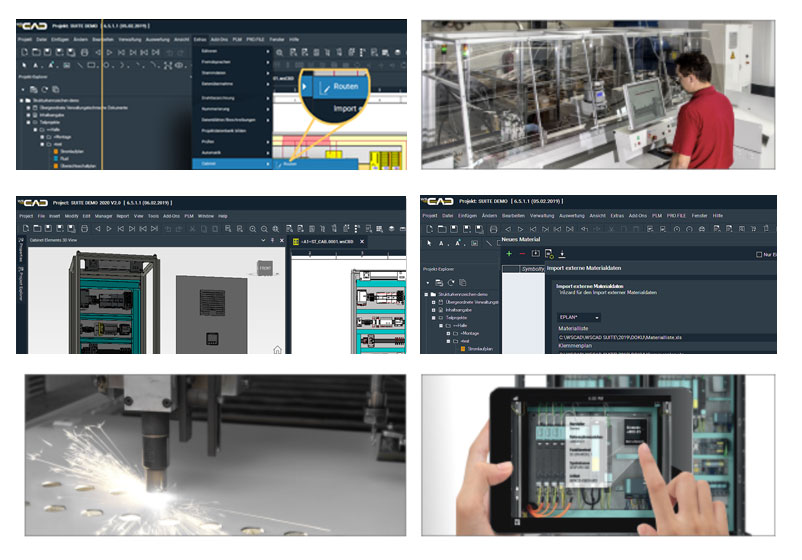 WSCAD Augmented Reality App for Maintenance Engineers
Cabinet layouts – fast, easy and efficient
Create cabinet layouts based on previously created schematics in WSCAD
Or create cabinet layouts based on schematics from other electrical CAD systems. For example: if your customer designs electrical schematics in EDZ format, you can import these into the WSCAD Software and start immediately to design the cabinet.
Drag cabinet, mounting rails, and power supply into your drawings. Use macros and macro variants to save significant amounts of time
Components snap automatically accurate to a tenth of a millimeter and with automatic right or left alignments
More than 2.1 million symbols and parts data

Free access to the world's biggest electrical CAD library: wscaduniverse.com with over 2.1 million articles from 400 manufacturers
Routing, wire lengths, filling degree of the duct
Connections will be routed automatically saving precious time
Wire lengths are calculated by the WSCAD Software, saving even more time and avoiding errors
Filling degree is displayed for cable ducts (red, yellow, green) preventing hassle during the manufacturing process
3D collision control and thermal management
3D view for better view
3D collision control to prevent costly errors
Interface to DELTA T from ELMEKO for calculating necessary air-conditioning
Manufacturing wires is easy
Label printing and wire labelling
Manufacturing of wires and wire sets by service providers via menu items in the software
Direct connection to machines for wire cutting (Komax, Steinhauer / nVent)
Manufacturing cabinet doors and mounting plates
Processing and transfer of mechanical data to NC machines of well-known manufacturers (Pentair/Steinhauer, …)
No additional mechanical CAD software required
Intelligent documentation and Cabinet AR App
Automatic generation of the documentation – complete and standardized – as intelligent PDFs with cross-references: no special viewer required. Technicians and maintenance engineers on site can easily jump within the PDF file from the control cabinet page to other schematics.
The right data, at the right time: the WSCAD Cabinet AR App identifies components in the control cabinet and immediately shows you the according schematic and all the relevant component data. This way maintenance engineers can immediately act on the problem they are dealing with and shorten machine downtime.
Using the WSCAD Cabinet AR App engineers can add annotations to the PDF file (redlining) on site and make these comments available to all stakeholders. Engineering changes become a breeze.
The WSCAD Cabinet AR App is part of the new WSCAD Software. You can download the app free of charge from the Apple App Store* or Google Play*.
* Brand names, logos and trademarks used herein remain the property of their respective owners. The listing of any firm or their logos is not intended to imply any endorsement or direct affiliation with WSCAD GmbH
Request a Demo of WSCAD ELECTRIX
Get the complete WSCAD ELECTRIX demo and try it, including all the modules for free. Simply fill in the form and we will send you an e-mail with the download link of the WSCAD ELECTRIX demo version. If you have any questions, one of our employees will be glad to help you.
Request a Demo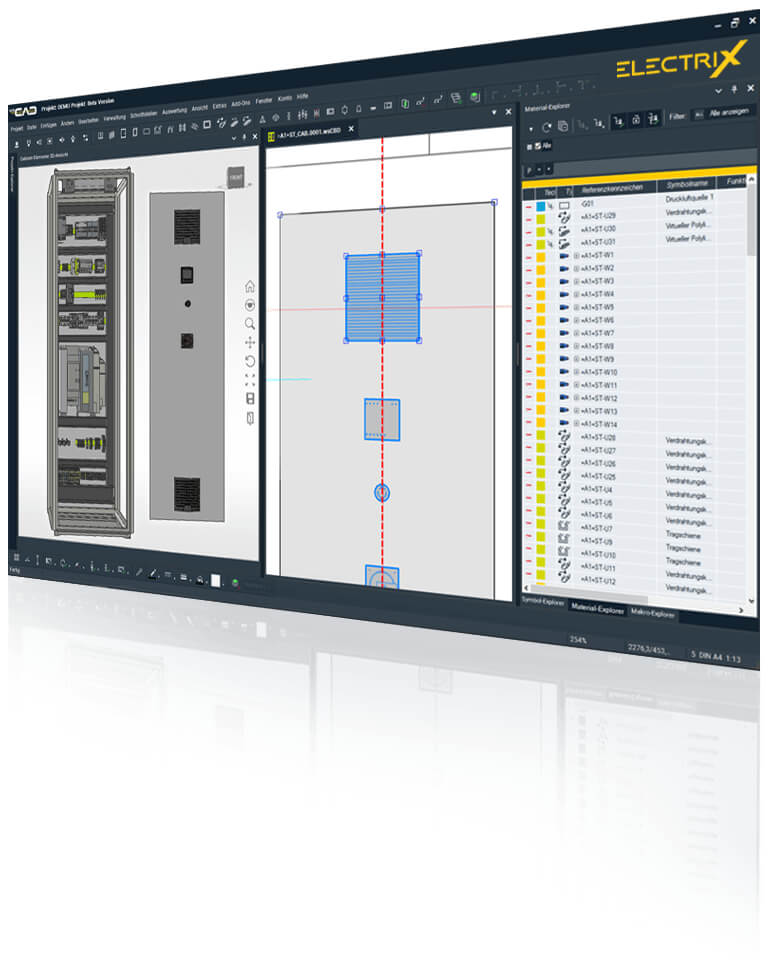 Cabinet engineering with manufacturing integration
Simple, professional and cost-effective
Production integration, downstream processes, digital workbench…
…however you may call it, the results are the same: fast, fully digital processing and consistently high quality. Cabinet Engineering from the WSCAD Software puts the right engineering tools at your fi ngertips. Schematics, 2D and 3D cabinet layouts, label printing, wire and core labelling, data that can be used for the production of wires, wire sets, cabinet doors and mounting plates through to wiring and maintenance via an augmented reality app – all of these are included in the WSCAD Software.
Three ways to improve efficiency. Which one will you choose?

I want to do everything myself
After purchasing the WSCAD solution, take the 8-day Expert Engineer training course and off you go. If you have already taken the 5-day Engineer training course, you only need to take the 3-day Upgrade Expert Engineer advanced training course.
To view our full range of training courses, please visit https://www.wscad.com/en/trainings.

I want to become more efficient
With our ready-to-go workshop, we will come to you and show you the options that are available by using an example project. We will also show you how to create articles and get everything set up so that you can get back to work immediately. With our ready-to-go service, after just 3 days you will be able to align your own projects with your production integration solution.

I want better control and management of the documentation
Send us your layout and schematic and tell us what you want to control and operate. We will do what needs to be done and prepare the required documentation – including manufacturing data – in order for you to be able to start production yourself or outsource orders to external subcontractors immediately.
Save time
The use of digital design data will enable you to reduce your development and production time by almost 60%. With our software, the level of complexity involved in production integration is up to 50% lower than comparable products on the market.
High functionality
Take advantage of the possibilities offered by Cabinet Engineering from the WSCAD Software! It contains everything you need to signifi cantly reduce the time it takes to design a cabinet.
Easy to use
The combination of a wide range of functions and ease of use prove benefi cial when resources are scarce. The WSCAD Software is suitable for all user types whether you are an occasional or a frequent user.
Reduce costs
Given the same level of performance, WSCAD Software with production integration is around 40% cheaper than comparable solutions on the market.