The Cabinet Engineering discipline provides a significant amount of support for the design and layout cabinets: for example, the exact and optimal placement of components, collision checks for objects and the calculation of wire lengths and wire routes already during the planning. Even the filling degree of cable ducts is always visible. Drilling data for bulk goods such as mounting rails, for example, can be configured easily through a dialog. The 3D view provides better spatial awareness of the cabinet. All generated data is available for the production of wire and cable bundles, label printing, mounting plates and cabinet doors on NC machining centers.
A useful feature is the cabinet layout from external E-CAD data without any previously created schematics: A wizard reads terminal charts and material and connection lists and matches them against the WSCAD database. A new degree of freedom for cabinet builders, who want to create cabinet layouts with WSCAD on the basis of data from other E-CAD systems.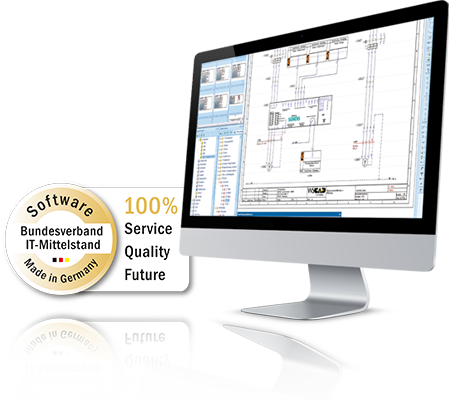 Requirements-based project start: initiation of
planning with the cabinet or schematics
3D wire routing and wire length calculation in the
control cabinet to optimize the cable harness
Automated cabinet wiring while considering
various voltage levels
Standardized control cabinet layouts (cabinet macros)
for faster design planning
Placement support, collision checks and
fill level display already during the planning phase
Export of all data for automated production
(wiring lists, drilling/CNC data, part lists)
Scale-based planning
Precise right and left-aligned placement of components
accurate to one-tenth of a millimeter
Fill level calculation and display of cable ducts
Collision check of objects
Auto-routing of connections, calculation of wire lengths
3D representation for better spatial awareness
Cabinet configuration based on external E-CAD data
Engineering and manufacturing control cabinets with WSCAD

Control cabinets cannot be designed and manufactured by the book. Most of the highly specialized medium-sized companies need to be equally proficient in both the technology and the skills of the trade.  And they need the right CAD tools to meet tight deadlines and deliver  high quality. The following user report illustrates how a switchgear  manufacturer from the vicinity of Augsburg, Germany has mastered these challenges.