Update to the newest WSCAD SUITE X
Why it is the best thing you can do
Modern technologies for electrical design
Here are the main reasons why working with the newest WSCAD SUITE is a huge advantage. If you have questions, please give us a call or send us an email. Our sales consultants are happy to help.
Grab your free consulting or your offer now!
Get in touch with us: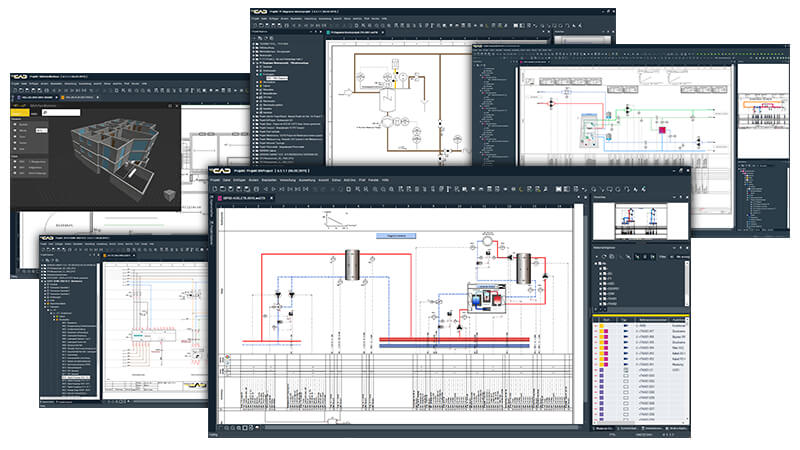 Advantages of using WSCAD SUITE X
1.4 million electrical parts
Access the world's biggest electrical library with over 1.4 M components from over 350 manufacturers: wscaduniverse.com.
Relying on our 1.4 million ready made electrical components saves 15-20 minutes of your valuable engineering time per part used. On some more complex components you can save even up to 2-3 hours per component. Value add delivered.
Integrated interfaces lead to better engineering processes
Say good bye to inconsistent data and duplicate entries
Greatly enhance your engineering process by using these built-in interfaces:
Siemens TIA-Portal (configuration and programming of PLC),
M-Print PRO by Weidmüller (marking texts),
PHOENIX CONTACT PROJECT complete (edit terminal strips),
WAGO smartDESIGNER
PLM- and ERP-Systems
manufacturing machines (drilling, NC sheet metal)
cable manufacturing and so much more
Work compliant to norms & standards and manage your liability
Structure identifiers – Standards-compliant and cross-disciplinary structure IEC 81346.
A consistent and well thought out structure of plants and equipment using structure identifiers from the outset simplifies and accelerates the development and design process immensely. Complete mechatronic parts lists can be generated fully automatically, and the matching of modules via ERP systems with the data from the mechanical CAD field can be quickly and conveniently accomplished. It is the marriage between electrical and mechanical engineering. The bridge to the electromechanical and thus mechatronic parts list is easy to implement by building small functions and functional units that match the mechanical modules on the one hand, while also being repeatedly usable any number of times on the other. Using structure identifiers according to IEC 81386 greatly simplifies communication along the supply chain, clarifies liability issues and makes your customer happy.
Save time by using macros
Speed up your engineering by using macros and macro variants
Macros enable you to drag & drop sub-circuits or even entire pages of a schematic into you new design. By using variables within a macro, you can pre-define variants of that macro. Later on you can easily switch between the variants of the macro. Replacing a macro perpetuates the change throughout the project so data consistency is always kept. Macros are available in WSCAD SUITE in all engineering disciplines.
Automate your electrical engineering
Automate everything you don't want done manually
All aspects of engineering automation are possible within WSCAD SUITE. Generate and configure schematics (or parts hereof) by using our Project Wizard. It literally shorten design time from many weeks to only a few minutes. And if necessary you can even connect you own product configurator to the WSCAD Automation Interface. This way you can configure entire schematics and generate them, without even starting WSCAD SUITE or knowing the details hereof. Electrical engineering gets a turbo boost.
Work easier with huge projects and 64-Bits
Be a lot faster by allocating more memory to huge projects.
WSCAD SUITE X supports 64bit operating systems. Theoretically these operating systems can address 16 million GB of memory. Say good bye to swap files used by those old 32bit systems. Use the advantages of modern 64bit technology and simply enhance engineering efficiency.
Save time through higher performance 
Zooming is now significantly faster, generating PDFs from your schematics takes only a fifth of the time, opening files is 30% quicker, printing has been boosted.
Import and export data in different formats
Be flexible and simply use data from other electrical CAD systems
An Import-Wizards helps you import data from other electrical CAD systems into WSCAD. Files in DXF/DWG, PDF or even MS Excel are well known. In WSCAD you can even design cabinets including wire routing without even touching the electrical schematic: simply import the necessary data from other electrical CAD systems into WSCAD. If you have to export your schematics or project in Eplan* format, please select the menu "Projekt -> Export -> EPLAN-Service".
Open a support ticket straight from WSCAD SUITE
When you get stuck…
…you can call our experts in support. Or you just select the top menu "Help -> Support-Ticket" in WSCAD SUITE and generate a ticket directly from the engineering application. You can even attach necessary documents that will help us, help you. The more information you deliver, the better and faster we can solve your problem.
Download the WSCAD SUITE X demo version!
If you want to test the SUITE X, order our fully functional demo version now.
Questions?
Please, give us a call:
+49 (0) 8131 – 3627 98