Faster, better and easier
With the WSCAD SUITE 2018, users receive numerous innovations and improvements for their electrical engineering solution. In addition several performance improvements have been implemented across the entire software: from the startup behavior and the various managers down to the printed output. Especially for projects with several hundred pages, improvements were achieved by up to a factor of 10. You can find all details in the PDF "New in WSCAD SUITE 2018".
All new features are yours as part of your valid maintenance contract.  If you do not have a valid maintenance contract you can purchase one. Call us at  +49 8131 36 27 98 or send us an email sales@wscad.com
New in WSCAD SUITE 2018 – an overview
WSCAD SUITE 2018 includes expanded structure identifiers
Structuring products consistently from the outset by using parent structure identifiers with standards-compliant (IEC 81346) and cross-disciplinary structuring will save you a lot of time when making changes.
The Add On Advanced Project Structure (APS) is now part of the following WSCAD SUITE 2018 versions: Professional, Electrical, Fluid, Automation, Building, Installation, BAControl, BAProject, Project, Ultimate, Education Ultimate. Customers with a valid maintenance contract for the above WSCAD Suites will receive the advanced structure identifiers free of charge.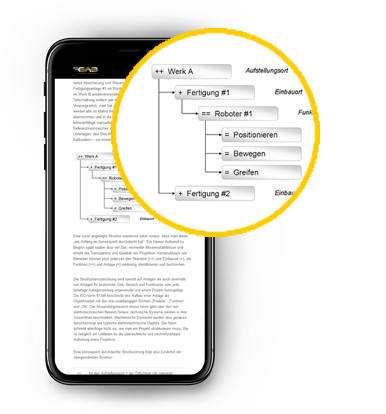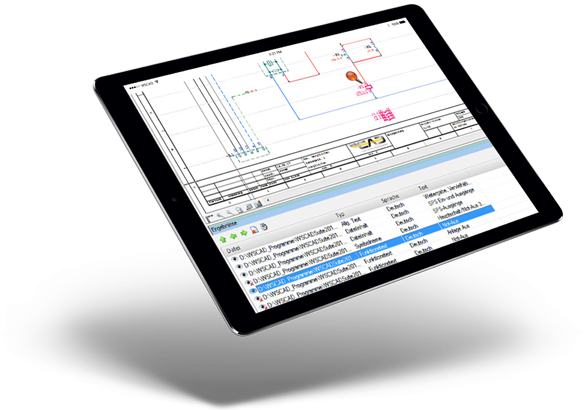 Part search and parts database
The search function in the part database has been adapted to the search function of wscaduniverse.com in its function and "look & feel". The search now refers to all (!) table columns, and the search input from your local part search is taken over to wscaduniverse.com. Searching for parts got faster and easier.
In the "Results" dialog of the search function, there is a new "Print pages" button which prints the contents of the found documents. For example: you can now specifically search for modified structure identifiers and print only those pages.
If you have searched for entries in components, you can directly jump to the relevant page in the schematics by clicking on the corresponding line in the dialog. The affected object is selected automatically.
The WSCAD fields "Symbol Electrical1P", "Symbol Electrical", "Symbol Cabinet", "Symbol Installation", "Symbol BA" and "Symbol Fluid" can now be assigned to symbols and macros via the Edit symbol button. For each WSCAD field, either a symbol or a macro can be assigned via the Symbol/Macro Browser. It is possible to assign a symbol to the WSCAD field "Symbol Electrical" and a macro to the WSCAD field "Symbol Cabinet".
Amazing photorealistic 3D view with mechanical collision check: Based on actual component dimensions using 3D STEP data, engineers can make sure that there is no collision between components in the control cabinet and the cabinet door. The usual way of designing the panel in 2D remains intact while 2D and 3D views are automatically in synch.
The 3D properties of CE symbols can be changed in the part management. 3D STEP data is available for free in wscaduniverse.com or other portals for 3D data. The 3D function requires WSCAD SUITE Electrical, Project, Ultimate or CE Stand Alone.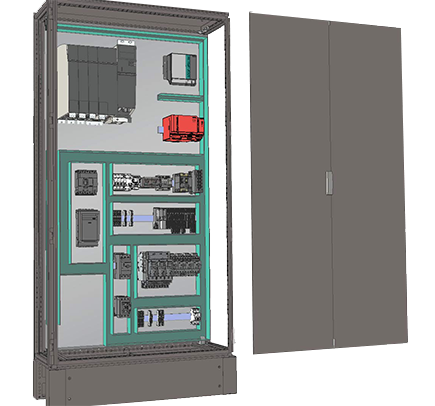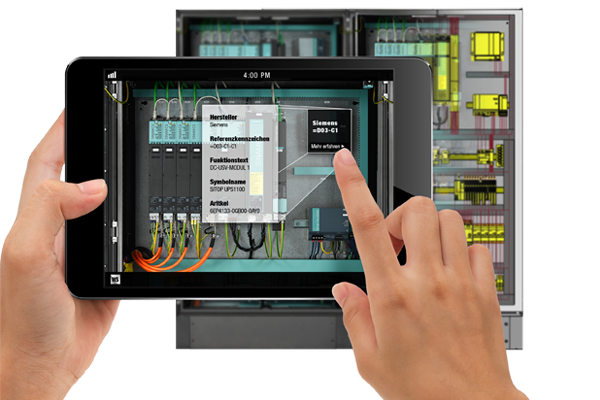 WSCAD AR App: Augmented Reality in the control cabinet
… all your parts data and schematics when you need it, where you need it
The ideal solution for maintenance and service engineers: grab  your tablett or mobile and scan the QR-code of a mounted component in the control cabinet. You can immediately access the schematics, including ref. names, part data from wscaduniverse.com and data sheets directly from the manufacturer. All QR-codes are easily generated via the label output in WSCAD SUITE 2018. This is usability and efficience at its best.
The WSCAD AR-App is part of the new WSCAD SUITE 2018. It can be downloaded free of charge from the Apple App Store and Google Play.
Save As WSCAD SUITE 2015 and WSCAD SUITE 2017
Are your customers still working with WSCAD SUITE 2015 or 2017? You can now engineer with the latest WSCAD SUITE 2018 and save your projects in the formats WSCAD SUITE 2015 or WSCAD SUITE 2017. Your customers will get the schematics in the requested format, while you benefit from the latest technology in WSCAD SUITE 2018.
Combined parts and additional parts can be loaded and placed directly from the Material Explorer. Individual parts may have additional parts that used in other areas and disciplines. Even these parts can now be directly loaded, for example, cable (EE discipline) with screw connection (CE discipline). This enables part-based engineering and time savings of up to 20% per project.
Macros as an extension of the material database
In all engineering disciplines, symbols or macros can be stored in a single data record. Consequently, even complex parts such as complete motor feeders can now be stored. In conjunction with a combined part, it makes part-based engineering even more efficient.
Time savings for macro-based methodology are ca. 10% per project.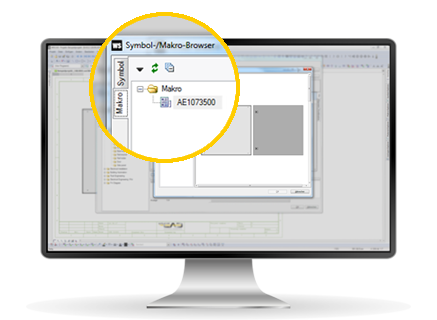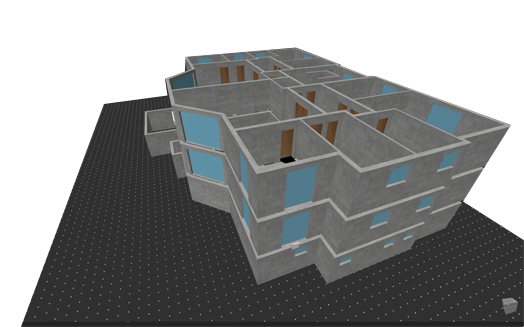 When two symbols are connected with a cable in the installation plan, this cable is displayed in the properties dialog of the connected symbols in the menu item "Cable" under "Connected cables". The cable length resulting from the routing in the floor plan is directly entered in the Cable Manager.
EI symbols that are already placed and marked in the installation plan, can be resized via "Edit | Scale | Scale symbol". Symbols that were accidentally drawn in different sizes can be matched. Estimated time savings for frequent changes: factor of 2 to 3.
All data points are stored in the central database and can be edited in every engineering discipline of the WSCAD SUITE 2018. For instance: data points can now be assigned directly to PLC channels. They are then immediately available across disciplines in the PLC Manager. This avoids errors in Building Automation projects and delivers time savings of up to 20% per project.
In addition four new data point key plugins (BKS_9 to BKS_12) are available for specific data point generation.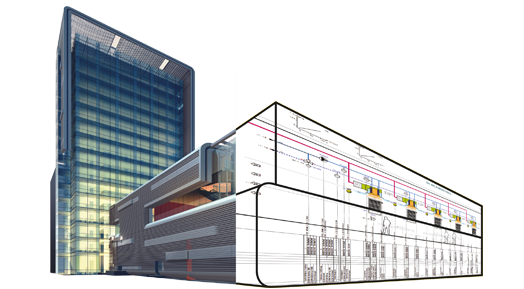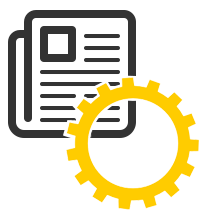 Software licenses are the new standard at WSCAD. A dongle is no longer necessary, but can still be ordered for a fee. Licenses can now be borrowed (checked in and out). This is particularly useful when visiting a customer or the manufacturing site. Users will also be able to manage their licenses conveniently via an online portal.
Using the main menu command "Help | Support Ticket", users can now send the report errors straight to WSCAD Support and also attach a project backup – an option we strongly recommend. Forget collecting all the information manually and sending it by e-mail to WSCAD. It now works faster and smoother.
If your company has an own internal ticketing system, we can connect it to the WSCAD ticket system ensuring a seamless process and information flow.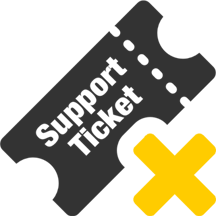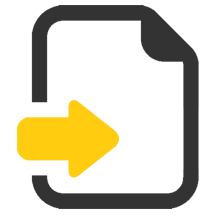 Improved import and export functionality
Importing projects, parts, data, and configuration settings from previous versions of WSCAD was combined in a wizard and simplified. It now works faster, better and easier.
Importing schematics from other electrical CAD systems is available and extremely useful for instance for cabinet engineering. You can do it all with WSCAD SUITE 2018 and don't need another electrical CAD system.
We have also improved speed and quality of DXF/DWG and PDF export.
Integrating with PLM and ERP systems
The WSCAD PLMERPsync is available as an add-on for the WSCAD SUITE 2018. It enables the integration of WSCAD data in the entire product development process, i.e., with PLM and ERP systems from all major vendors.
The integration is done via OpenPDM from PROSTEP. Customers who use OpenPDM include: BMW, Bombardier, Continental, Nokia, PSA Peugeot Citroën, SAFRAN SNECMA, Tesla Motors. etc.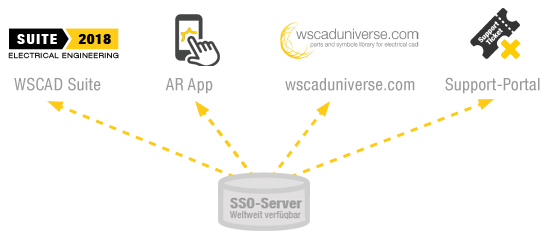 Log in once and use all WSCAD services worldwide: WSCAD SUITE, WSCAD AR App, wscaduniverse.com and support portal. It makes life easier and saves time. This service will be available with WSCAD SUITE 2018 Service Pack 1.
Simplified data transfer from previous version (Save as …)
Data transfer (including log file) from earlier versions of WSCAD SUITE is now much easier: it has been automated and compressed into one wizard. This saves up to 30% of valuable time. The central project database is automatically converted to the current version of WSCAD SUITE. For large amounts of data, make sure the conversion is done over night.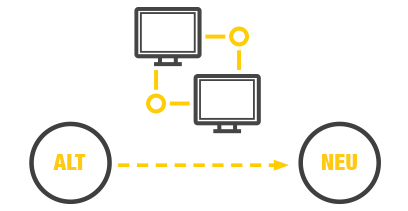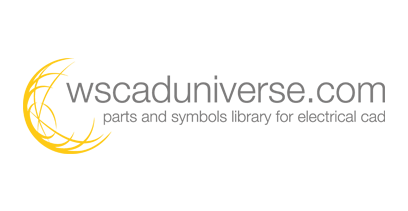 Huge parts and symbols data base: wscaduniverse.com
You can easily acces wscaduniverse.com through your browser or from WSCAD SUITE: search for parts, select and import them fast and easy in your engineering projects. This service is free of charge. Over 130,000 users can access parts and symbols in WSCAD and Eplan* format. It also provides 3D data in STEP format for cabinet engineering with WSCAD SUITE.
With wscaduniverse.com we are providing the biggest electrical data base and the only one free of charge delivering immediate value add to electrical engineers.
* Brand names, logos and trademarks used herein remain the property of their respective owners. The listing of any firm or their logos is not intended to imply any endorsement or direct affiliation with WSCAD GmbH
We are working hard at making our electrical CAD software solutions even better, faster and easier to use. If you would like to have more information about our development roadmap or if you want to give us your input on what we should do, please make an appointment with our top management.
Our goal isn't just to create CAD software. Our goal is to create great experiences for engineers so they can finish their projects faster, better and easier. We are always eager to know more about what you need.